Meet The Off Leash K9 Team
Rick ROberts - HEAD Trainer
Rick Roberts is a graduate of West Virginia State University, where he graduated with a Bachelor of Science in Business Administration. He was a retail manager for many years before he decided to follow his real passion for dogs. Rick grew up with German Shepherds, and has always been interested in dog obedience and behavior. This interest was sparked by the fact that his great grandfather was a breeder, and his father worked with K9's in the Air Force. Rick is an avid outdoorsman, and all his pups love hitting the woods or water with him frequently.
Chip Williams is a native of Kernersville, NC. He joined the Air Force after graduating from Glenn High School. During his time in the Air Force, he had the opportunity to work with dogs. He has a passion for training and teaching owners how to train and form better relationships with their dogs. Chip lives in Kernersville with his wife, three kids and their dog, Sadie. In his spare time, he enjoys hiking, riding bikes and playing golf.
Dave Dobbins is excited to be a part of the Offleash K9 family. A native of Alabama, Dave has called North Carolina home for most of his life. He spent 30 years teaching in North Carolina's public schools, most of that at Southeast Guilford Middle School. During that stretch, Dave served in several state-level leadership positions, and spent time as a mentor, co-op teacher for interns, restaurant chef, and a frequent clinician, presenter, and adjudicator at regional and state music education conferences and festivals.
Dave loves dogs, loves training dogs, and loves helping dog owners have a stronger bond of love, understanding, health, and trust with their K9s. He still frequently finds new parallels between training K9s and teaching school children. Dave and his wife Amy live in Pleasant Garden and have two college-aged daughters. The Dobbinses have a German Shepherd named Saban, a Black Lab named Millie, and they often host their daughter's Pit Bull rescue, Clementine whom they like to call their "grand-pupper." In addition to dogs, Dave loves hiking, cooking, biking, fishing, traveling, and all things Alabama football. Roll Tide!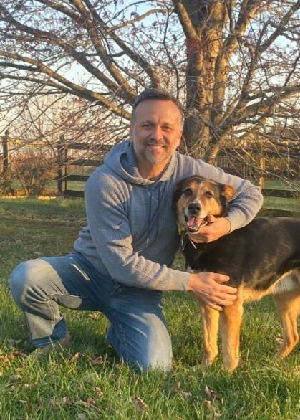 Carson is from Yadkin County, NC where he grew up around dogs. After graduating from Surry Community College, he moved to Winston Salem, NC where he spent three years in the banking industry. During this time, he got a dog of his own, Cooper. Cooper is an Aussie Mountain Doodle and the reason Carson began his journey in Dog Training.
After learning how to teach his personal dog basic obedience, he began training in the area part-time. Realizing that he had found his passion, he began to pursue Dog Training full-time.
In his free time, Carson enjoys playing music, fly fishing, and playing golf.
Lauren is a graduate of Virginia Tech where she received a Bachelor's Degree in Agriculture and Life Sciences. She is from Winston-Salem, NC, and recently returned after living in Blacksburg, VA for three years.
She got her first dog, a border collie, Enzo while in college. She later adopted two more pups, Kylo (a Catahoula mix) and Bravo (a husky).
In her spare time, Lauren enjoys skiing, hiking, and teaching her dogs new tricks.
Ara was born and raised in North Carolina and has always had a passion for animals. She spent 2+ years working as a professional dog trainer before transitioning into the veterinarian industry for several years. After seeing so many dog owners struggle with behavioral issues in the vet office, she realized her passion for dog training was still alive and well.
Ara is excited to join the Off Leash K9 team to continue her career in professional dog training.
In her spare time, Ara enjoys fishing on the coast, riding horses, raising chickens, and going on adventures with her personal dogs (Esper, a German Shepherd and Iris, an American Bully mix)
do you have questions for us?
Or Call us for a free consultation today!
About Off Leash K9 Training
Dog Trainers that Are Recognized Around The World!
Nick White is the Owner and Founder of Off Leash K9 Training.  Nick is a former US Marine and former US Secret Service. He currently has over 130+ dog training locations throughout the United States.
Nick is globally recognized as being one of the top dog trainers in the world.  He has 2 official world records in off leash obedience, named on Wikipedia as one of the top 20 dog trainers in the world, recently named top 10 trainer in the world by bestdogtrainers.org, has been featured in many magazines and shows, and he is regularly requested by the top celebrities and athletes! He has been called upon by people such as actor Ryan Reynolds, WWE's John Cena, MLB All Star Max Scherzer, UFC World Champion Jon "Bones" Jones, and many more!
You can visit our YouTube Channel and watch over 1500+ before/after videos of Nick and his team's work!  Off Leash K9 Training has more documented videos than any dog training business in the entire world!